About Us
Who We Are
Welcome to Wyoming Stuyvesant Floral. We are a third-generation florist in Wyoming, Michigan. We serve the Greater Grand Rapids area with daily floral delivery. We specialize in serving funeral homes, corporate customers, and individuals for local delivery of custom fresh flower designs. Please see additional information about our company below. Thank you for visiting!
Wyoming Stuyvesant Floral
2315 Lee St SW
Wyoming,MI 49519
---
Additional Information:
We are a local floral company in Wyoming, Michigan. RETAIL HOURS: Monday-Friday: 8:30-5:00 Saturday: 8:30-1:00 Sunday: Closed PLEASE NOTE HOLIDAY HOURS We close at NOON the SATURDAY before Memorial Day and Labor Day (and Independence Day if it falls on a Sunday). We close at 3:00 p.m the day before Independence Day. We close at 5:00 p.m. on Halloween when it falls on a weekday. We close at 4:00 p.m. on the Wednesday before Thanksgiving. We close at NOON on Christmas Eve and New Year's Eve. Our shop will always be closed on the following holidays: New Year's Day, Easter, Mother's Day, Memorial Day, Father's Day, Independence Day, Labor Day, Thanksgiving Day, and Christmas Day.
Our Contact Information
We are a local flower shop in Wyoming, MI. We can be reached during business hours at 616-532-2315. After business hours, the best way to leave us a message is via email. Email: office@wyomingfloral.com or use the link below for our contact form.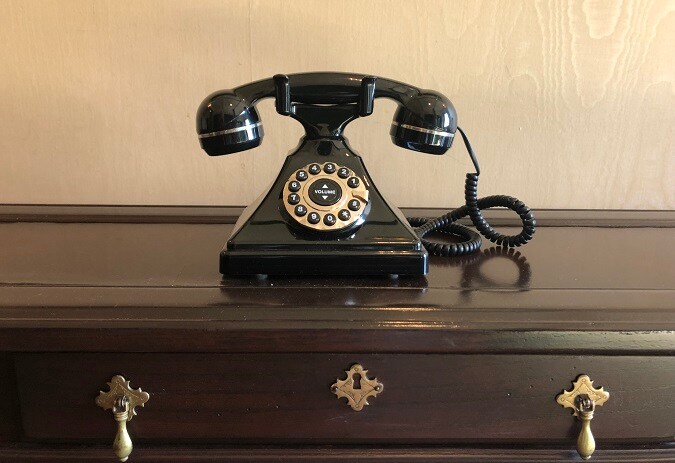 Our Delivery Service
If you have a special request for a delivery timeframe, please call us on the phone during business hours at 616-532-2315. Please keep in mind, the more notice you provide, the more likely your request can be accommodated. Unless you have made arrangements with us on the phone, your delivery will arrive sometime on the delivery date you have selected.
We are a local Wyoming, MI florist serving the greater Grand Rapids area with daily floral delivery to Wyoming, Grandville, Jenison, Hudsonville, Grand Rapids, East Grand Rapids, Walker, Standale, Comstock Park, Belmont, Ada, Cascade, Kentwood, Cutlerville, Byron Center, Dutton, and portions of Caledonia.
This website bases the delivery fee on the recipient's zip code. Please enter an accurate zip code.
Orders placed on our website that are outside our delivery area will be charged a $9.95 wire-service fee and a $10.00 delivery fee. We will relay your order to a florist that serves the recipient's zip code. The $10.00 delivery fee and the product price will be transferred to the filling florist. The $9.95 covers a portion of the cost we are charged by Teleflora to use their wire service.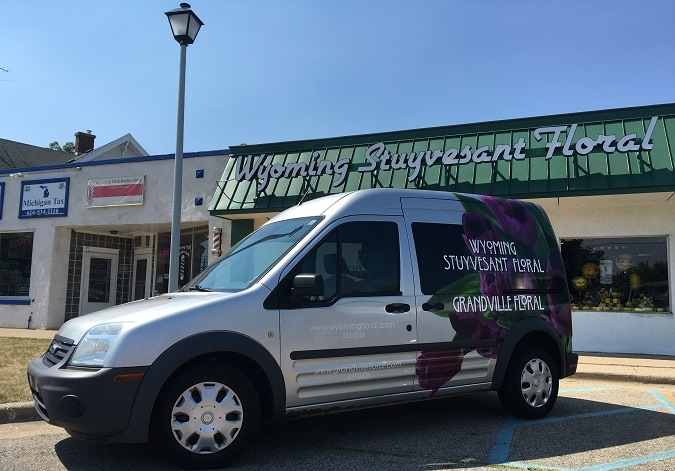 Corporate Accounts
Wyoming Stuyvesant Floral offers custom invoicing to our corporate and organization accounts. We can invoice as you place orders or invoice monthly. These invoices may be paid via credit card, check, or electronic fund transfer (EFT). Please contact us directly via email to inquire about establishing a house charge account with us. We are more than happy to open a dialog about how we can best serve you and your organization.
Hospital Delivery
Flower Delivery to Hospitals in Grand Rapids Area
We deliver to all the hospitals in the Grand Rapids areas including Metro Health Hospital in Wyoming, Spectrum Butterworth Hospital, Spectrum Blodgett Hospital, and Mercy Health St. Mary's Hospital in Grand Rapids.
Spectrum Butterworth Hospital Floral Delivery
Spectrum Blodgett Hospital Floral Delivery
Metro Health Hospital Floral Delivery
St. Mary's Hospital Floral Delivery
Helen DeVos Children's Hospital Floral Delivery
The Fred & Lena Meijer Heart Center Floral Delivery
Mary Free Bed Floral Delivery
Lacks Cancer Floral Delivery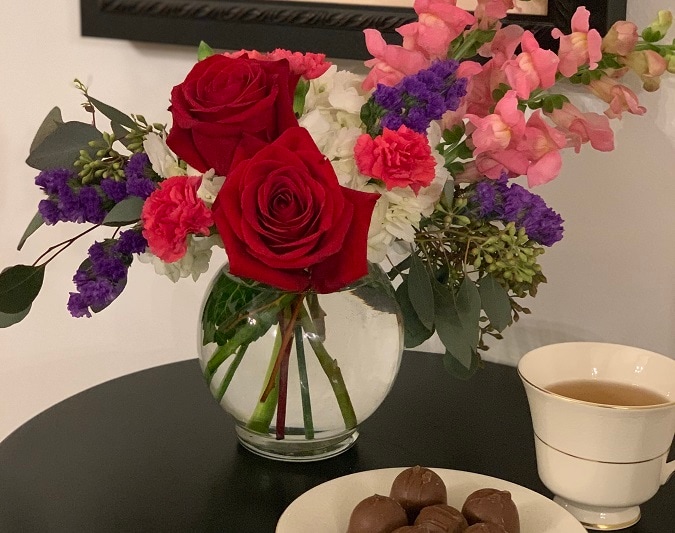 Delivery for Funerals
Since its inception in 1946, Wyoming Stuyvesant Floral has focused on serving the West Michigan community as an exceptional source for funeral flowers. We focus on custom funeral pieces tailored to express the senders thoughts of sympathy, remembrance, and honor. We are mindfully of the timeliness of floral deliveries for funerals and are extra conscience to make these deliveries at the appropriate time. We offer fresh flowers, plants, and keepsake gifts that are designed specifically for funeral and memorial services.
Arsulowicz Brothers Mortuaries Remembrance Chapel Flower Delivery
Arsulowicz Brothers Mortuaries East Chapel Flower Delivery
Arsulowicz Brothers Mortuaries West Chapel Flower Delivery
Barto & Son Funeral Home Flower Delivery
Beuschel Funeral Home Flower Delivery

Brown's Funeral Home Flower Delivery
Cook Funeral Home Grandville Chapel Flower Delivery
Cook Funeral Home Byron Center Chapel Flower Delivery
Crystal Funeral Services Flower Delivery
Gillespie Funeral Home Flower Delivery
Heritage Life Story Funeral Homes Alt & Shawmut Chapel Flower Delivery
Heritage Life Story Funeral Homes Van't Hof Chapel Flower Delivery
Kubiak Cook Funeral Home Dorr Chapel Flower Delivery
Kubiak Cook Funeral Home Wayland Chapel Flower Delivery
Heritage Life Story Funeral Homes Van Strien Creston Chapel Flower Delivery
Matthysse Kuiper DeGraaf Grandville Chapel Flower Delivery
Matthysse Kuiper DeGraaf Wyoming Chapel Flower Delivery
Matthysse Kuiper DeGraaf Kentwood Chapel Flower Delivery
Memorial Alternatives Flower Delivery
Metcalf & Jonkhoff Funeral Service Flower Delivery
Michigan Cremation Flower Delivery
O'Brien Gerst Funeral Home Flower Delivery
Ofield Funeral Home Flower Delivery

Reyers North Valley Chapel Flower Delivery
Stegenga Funeral Home Belmont Chapel Flower Delivery
Stegenga Funeral Home Wyoming Chapel Flower Delivery
VanderLaan Funeral Home Flower Delivery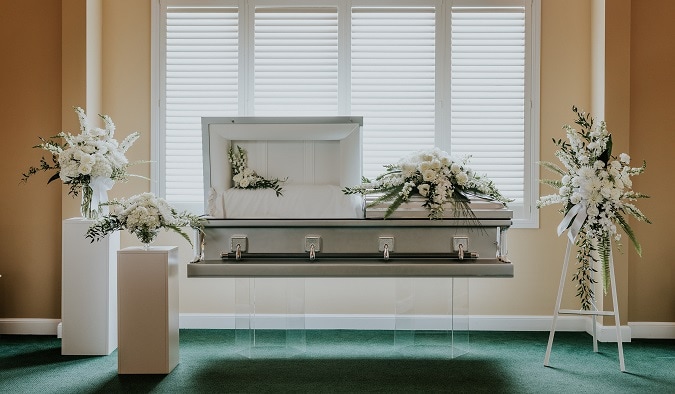 Our Funeral/Memorial Portfolio
Expressions of love, respect, and honor come in infinite forms, but flowers have served to represent those sentiments for centuries. All over the world, flowers are used in different ways and in varying designs to pay tribute. They provide a tactile and visual memorial that is universally recognized.
While creating our funeral and memorial portfolio, our focus was to design floral tributes with geography in mind, specifically West Michigan. What floral designs would represent how our community celebrates the life well-lived? We set out to use flowers to evoke feeling and feature forward-thinking designs that are meaningful and serve a greater purpose, at the same time remaining mindful of the traditions, rituals, and customs and how those values are evolving. Within our portfolio are examples of our designs that have incorporated portraits, photographs, mementos, and artifacts. The inclusion of these items can transform flowers into something more personal, more consequential.
Tailoring a floral design to incorporate these types of item is one way to convey what was important to a life, favorite book, a musical instrument, a bible can all add meaning. While creating the layout, we made a conscience decision that no matter the style of service, the floral collections found within the portfolio should be adaptable to the type of service. Whether a casket, urn, or portrait will be present at the service, all the collections represent a variety of choices tailored to different service style. We also carefully selected types and varieties of fresh flowers and greenery used within the collections. We made our selections based on consistency and year-round available. It was important to us to feature flowers that commercially have no season. This meant excluding some beloved favorites. Those seasonal favorites can always be added in practice, but reliability won the day for the purposes of this portfolios.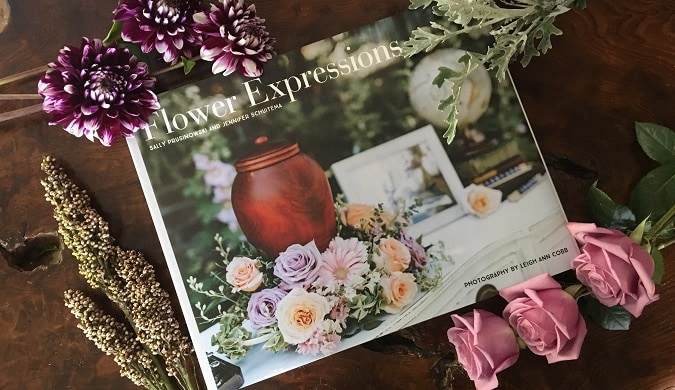 Custom Printed Ribbons
Our custom printing uses a high-quality double-face satin ribbon. The double-face satin is available in three sizes to fit the needs of specific floral pieces. The transfer film used by our ribbon printer is available in silver and gold. Below you will see all the available colors we regularly stock and samples of the possibilities with the custom printer. Follow the link below to learn more.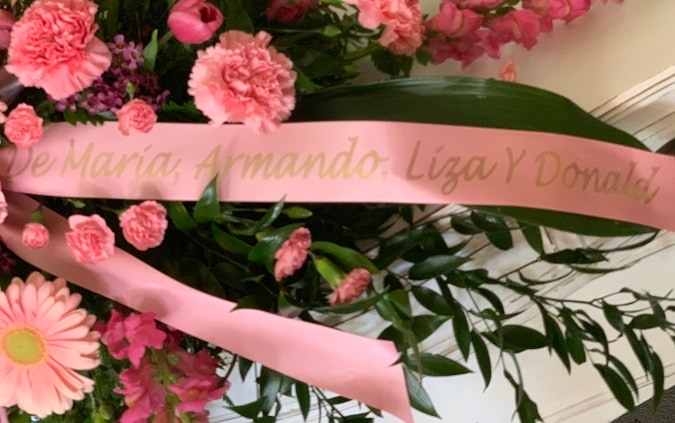 Our History
In 1946 two different flower shops were established. Brothers, Fred, Ed and Harv Dyke, opened Wyoming Park Floral at 2159 Porter Street. Earl and Tophy Tuttle opened Stuyvesant Floral at 142 Madison Avenue in the Stuyvesant Apartment Building. In 1950 Don Dykstra began working at Stuyvesant Floral.
In 1958 Don and Lois Dykstra purchased Wyoming Park Floral. Then, in 1968 Don and Lois purchased Stuyvesant Floral. The Dykstras merged Wyoming Park Floral and Stuyvesant Floral and moved to the current location at 2315 Lee Street.
Don and Lois owned and operated Wyoming Stuyvesant Floral until 1984, when their daughter, Sally Prusinowski, purchased the business. Sally has been a part of the floral industry her entire career. She is a graduate of Grand Valley State University with a B.B.A. in Accounting. Sally's daughter Jennifer Schuitema joined the family business in 1998. Jennifer is a graduate of Western Michigan University with a B.B.A. in Business Management.
For 30 years, Sally also owned and operated Grandville Floral. In 2016, Grandville Floral merged with Wyoming Stuyvesant Floral. Today, there is one location at 2315 Lee Street SW in Wyoming, MI.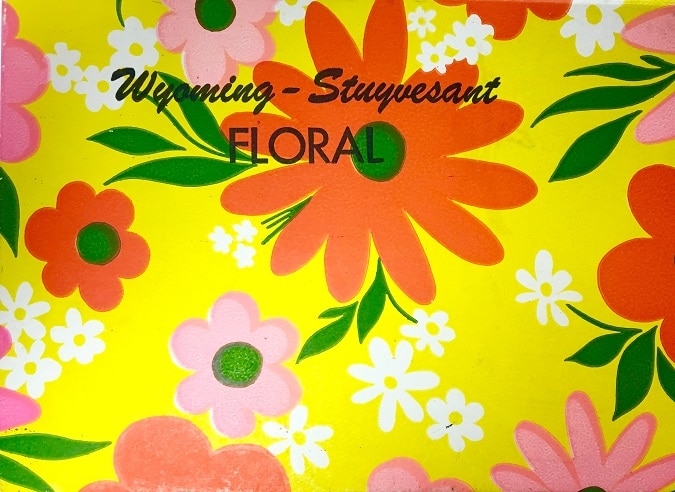 Our Blog
Explore Jennifer's take on floristry with Flowers Fables: A Floristry Blog.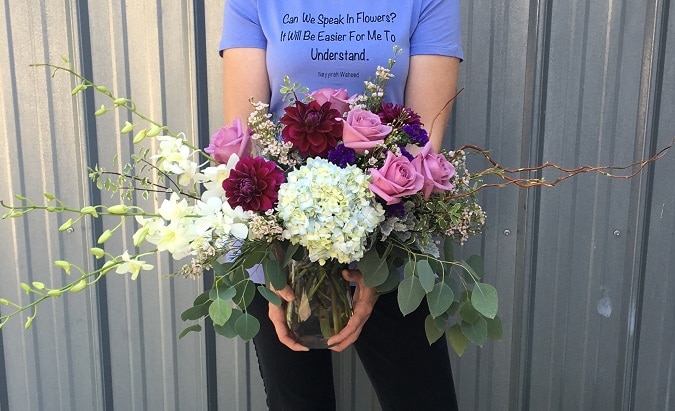 Substitution Policy
The floral designs on our website are all designed in-house by our designers. We only feature fresh-cut flowers, greenery, dried goods, containers, vessels, vases, gift items, and keepsakes that we regularly have in stock. On occasion, there may be a situation where we need to substitute for a particular flower. The reason we need some flexibility is because we are using a perishable product. For example, if a particular variety arrives damaged or suddenly becomes unavailable due to weather or shipping delays, we ask for leeway to use our professional judgement to make a reasonable substitution to fill your order. There also may be occasion when a rush delivery to meet the time constraints of a funeral or a request timeframe makes the delay of waithing for a flower shipment unrealistic. We do not make substitutions without doing our due diligence to obtain the required flowers, and our substitutions are made with thought and care. Of course, we are available to discuss any particulars with you during business hours at 616-532-2315 or via email at office@wyomingfloral.com.
Payment Options
We accept the following payment methods:
Visa
MasterCard
Discover/NOVUS
American Express


Our Wedding Gallery
Congratulations, YOU are engaged! Welcome to the world of flowers. Our studio offers wedding designs tailored to YOU. Whether YOU need a full service wedding with reception tablescapes and ceremony installations or simply personal flowers for your wedding party, our studio has a home for YOU. At consultation, our designers will guide YOU through your vision and help you select the best style and flowers for YOU.